ID CARD HOLDER SUPPLIERS UAE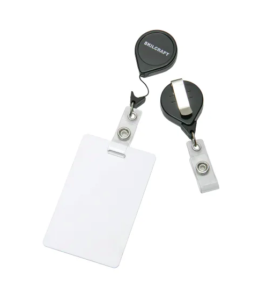 Features of  Widenetme ID Card Holders
Light Weight
Cost-Effective
Clear
Flexible
Custom- made according to your requirement
ID Card Badge Holders
Card Holder mainly made up of rigid and flexible plastic. As per the ID design, it is available either in portrait or landscape format. It is also available in clear, milky finishes. Rigid Holder always comes with a thumb notch so that the card can be easily removed.
These Rigid card holders provide a great protection of new technology cards like Mifare, smart cards, magnetic stripe cards. Because these cards protect straight in the rigid ID holder ensuring that there is no bend on the card and hence prevention of damage.
Display, Protect, and Exceed the Life of Your ID Card With Our Quality ID Card Holders!
You might find the perfect ID card holders in our extensive range to suit your requirements. From a wide selection of open-faced and enclosed card holders, you can pick the perfect one to protect your photo ID cards from wear and tear on a regular basis. Widenetme ID holders are available in various designs and attributes, including rigid, colored, and specialty ones. ID badge holders can also improve how your ID is used, whether just for keeping it visible or giving you access to doors.
Our clear plastic protective material-enclosed rigid ID badge holders are convenient to carry and keep your photo ID safe while enabling you to display your ID badge or card inside.
Id Card Holders For Your Specific Needs!
We are able to provide our customers with a wide range of Plastic ID Card holders with the help of our expert team. The card holders are made of plastic using modern technologies to meet industry standards. Additionally, we offer this card holder to our clients at reasonable costs.
Most of our cardholders are ideal for regular usage in healthcare facilities, administrative buildings,  and other workplaces where personnel must swipe or draw their photo ID cards for security reasons.
Our enormous selection of holders is available in a wide range of colors, forms, and sizes, and they can be attached to lanyard and reel clips.
For more information, Our friendly knowledgeable team members are happy to help
Get the Offer
Widenetme one of the leading ID Badge Holder supplier in UAE . Contact US on +971-52-535-1039 Email : sales@widenetme.com for best offers on ID Badge Holder.