Hand Punch 3000 Supplier in UAE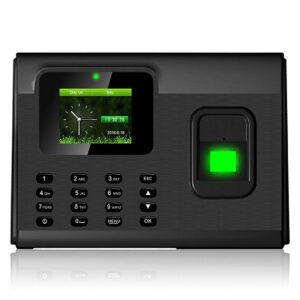 The HandPunch 3000 uses field-proven hand geometry biometric technology. The terminal captures an image of the hand every time when the employee punches. The hand's size and shape are used to verify their identity with irreplaceable accuracy. No fingerprints or palm prints are utilized. Green and red lights indicate the employee the status of each punch. There's no clarification anymore; workers have to be there to mark their attendance.
Programmable data management keys: The HandPunch 3000 has two user-definable data management keys that allow you to collect data as employees punch. Common uses include department transfers, tips collected, job codes, or pay codes. Tiered data entry sequences may be defined. You can also set the data management keys to allow employees to review their past punches. To reduce keystrokes, the keys can also be set to automatically enter data such as a frequently used department number or in/out status.
Communication options: Whether your shareware calls for one terminal or thousands, the HandPunch 3000 can fulfill the needs. Numerous terminals can be networked together at a site via RS-485 connectivity. An optional Ethernet communications module or dial-up modem are also available. Both options are internal to the terminal making installation quite easy.
Edit-at-the-clock functions: The HandPunch 3000 lets supervisors override user restrictions and input such items as missed punches, planned vacations, and sick time at the terminal. The password-protected mode contributes better supervisor flexibility by lessening the need for computer edits. Audit trails documenting the use of these functions are generated to corroborate security.
Bell schedules: The bell schedule permit you to program the day, time, and duration of a series of bells. The bells can be programmed to signal the beginning or end of a shift, lunch, or break
Antimicrobial protection: All hand punching machines contain a silver-based antimicrobial agent, which is embedded into the materials used to produce the platen, providing a finish that inhibits the growth of a broad spectrum of bacteria, mold, and fungi and remains active for the life of the machine.