ACR1252U Readers In Dubai, Abu Dhabi – UAE
USB NFC Contactless Reader III (NFC Forum Certified)
An NFC Forum-certified PC linked reader, the ACR1252U USB NFC Reader III was created using 13.56MHz contactless technology. It contains a SAM (Secure Access Module) slot that may be used in conjunction with a SAM card to perform mutual authentication and key diversification, ensuring high levels of security for contactless transactions. There is no longer a requirement for extra hardware modification because post-deployment firmware upgrading is supported
Card reader/writer, card emulation, and peer-to-peer communication are the three NFC modes that the ACR1252U is capable of.
This plug-and-play USB NFC device enables compatibility with a range of gadgets and programs because it complies with both CCID and PC/SC standards.
In order to allow users to easily tap contactless cards or NFC-enabled devices onto the ACR1252U, the smart card reader is available with an optional stand that holds it at the ideal angle.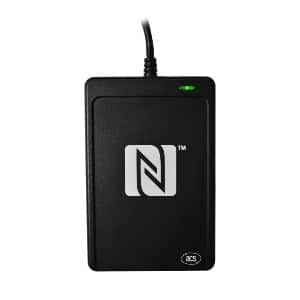 KEY FEATURES:-
Support various type of card type
ISO/IEC 18092 NFC
ISO 14443 Type A & B (T=CL)
MIFARE
FeliCa
Security
1 x ISO 7816 Standard SAM slot for improved security
Flexible
Read/write speed, LED & Buzzer can be programmable
Support USB Firmware Upgrade
Reliable
Certified for international regulations
Mean time between failures (MTBF) up to 500k Hours
Compatibility
Support for all major operating systems