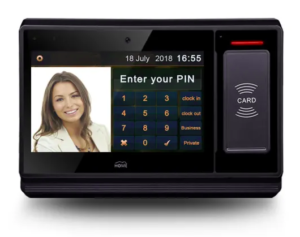 Time Attendance System in Dubai | Biometric Time Attendance System Abu Dhabi – UAE
Time Attendance System in Dubai Offer wide range of  products. The main goal of time and attendance (ADT) systems is to monitor and track employee start and end times. A time and attendance system aids the employer in keeping track of the number of hours worked by each employee as well as their late arrivals, early departures, breaks, and absenteeism.
Additionally, it lessens intentional errors, transcription errors, interpretative problems, and overtime payments, which are frequently related to paying workers for time not worked.
Time Attendance systems can also be used to protect both employee and employer interests as well as compliance with labor regulations regarding proof of presence. For all types of institutions and organizations, as well as several sites and branch offices/showrooms operated by a central office, we do provide card, biometric, palm, and facial recognition time attendance systems.
We provide full system supply and installation, hardware and software training, as well as after installation maintenance and AMC services.
The TNA system requires a LAN or Wi-Fi connection to a network. Through the use of a registration reader, a card number or template information is obtained and saved on a secure server. Our attendance machine can also be connected to a door access control system, allowing for simultaneous recording of time attendance and door access. All major brands in the marketplace are connected to our attendance software.
Supports Facial Recognition
Support Card and Biometric readers
Supports Hand punch
The following are some of the characteristics of our software:-
Web Based Time Attendance Software
Admin management and multiple user creation
Smart Roster Management with group or individual
Multiple Shifts and Multiple Roster creation
Limits of Minimum & Maximum Overtime
Public Holidays & Different type of leave creation
Quick Integration with API and other modes of connectivity
Automatic Database Backup
Third party Software Integration