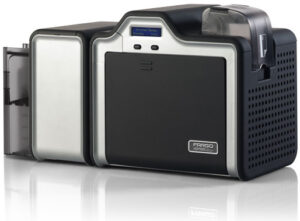 HDP5000 ID Card Printer in Dubai , Abu Dhabi – UAE
The Fargo HDP5000 card printer is aimed towards clients who want to produce high definition cards which something that looks more like a glossy photo rather than an ordinary DTC printed employee ID card. Fargo first introduced High Definition Printing (HDP) in 1999 and has been progressing the process since. This is achieved through the use of Fargo's High Definition Print (HDP) technology which technically prints the card's image in reverse on the underside of a blank film (HDP film). Then this image is pasted by the help of heat to the card's surface.
This method result a high print quality in two ways:-
Printing on the film allows for great image quality

Printing does not happen directly to the card like DTC. Therefore, uneven card surfaces become a non-issue. Additional benefit of HDP technology is that the printhead does NOT touch into direct contact with the card surface, it is unlikely to never be damaged!
This day Fargo HDP5000 is a market monopoly printer, and it provides a reliable, affordable solution for cards requiring sharp image quality. Cards can be printed, laminated on single or double-sided with different encoding options.
The key features of the HDP5000 printer as follows: –
HDP Dye-Sublimation / Resin Thermal Transfer (300dpi)

100 Nos. card input Hopper and 200 Nos. card output hoppers

Only CR-80 ISO Cards

Field modified single-sided or dual-sided laminator, magnetic stripe and contact/contactless smart card encoders

Lifetime printhead warranty
Get the Offer
Widenetme one of the leading HDP5000 ID Card Printer supplier in UAE . Contact US on +971-52-535-1039 Email : 
[email protected]
 for best offers on FHDP5000 ID Card Printer.