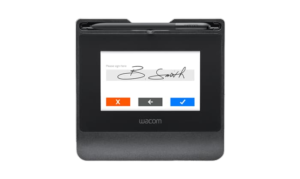 Wacom STU 540 in Dubai, Abu Dhabi- UAE
WIDENET FZC offers the signature pad STU-540 is Wacom's most advanced and robust premium signature device. It is ideal for high-traffic environments where in-person handwritten electronic signatures are required to confirm transactions, such as a bank teller desk, hotel check-ins, shop purchases or clinic registrations.
The 5-inch high-resolution color LCD screen with hardened glass provides an attractive point of sale signing area with a paper-like feel and superb durability. When not in signature mode, it can also be used for displaying advertising, promotions, or branding.
Get the Offer
Widenetme one of the leading Wacom STU 540 supplier in UAE . Contact US on +971-52-535-1039 Email : 
[email protected]
 for best offers on Wacom STU 540.